10 Best Dog Adoption websites| Find Your Furry Friend Online!
Welcoming a furry friend into your home can be one of the most rewarding experiences in life. For those looking to adopt a dog, the internet has become a valuable resource, offering a plethora of dog adoption sites to choose from. However, with so many options available, finding the best dog adoption site that suits your needs can be a challenging task.
In this article, we will explore the top dog adoption websites that provide safe, reliable, and efficient ways to find your perfect canine companion.
Visit these pet adoption websites to find your next dog:
1. Petfinder – Connecting You with Rescued Dogs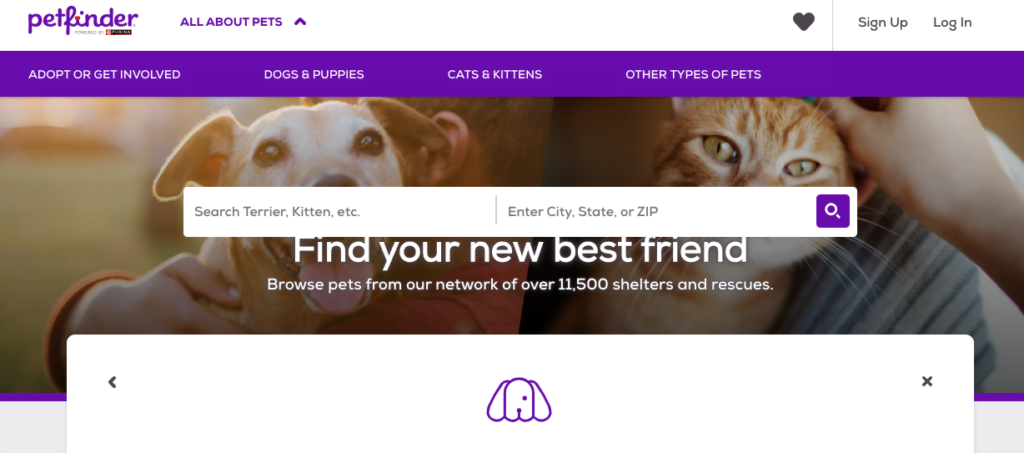 Petfinder stands tall as one of the most popular and user-friendly dog adoption websites. This platform works with animal shelters and rescue organizations nationwide to connect potential adopters with rescued dogs. With an extensive database of dogs of all breeds, ages, and sizes, Petfinder allows you to search for your ideal furry companion based on various criteria, such as location, age, and temperament.
2. Adopt-a-Pet.com – Where Forever Homes Are Found
Adopt-a-Pet.com is a widely recognized dog adoption website committed to helping homeless pets find their forever homes. This website collaborates with animal shelters and rescue groups, enabling users to browse through thousands of adorable dogs seeking loving families. Their intuitive search filters make it easy to narrow down your choices, ensuring you find a dog that matches your preferences.
3. Rescue Me! – Saving Dogs from Euthanasia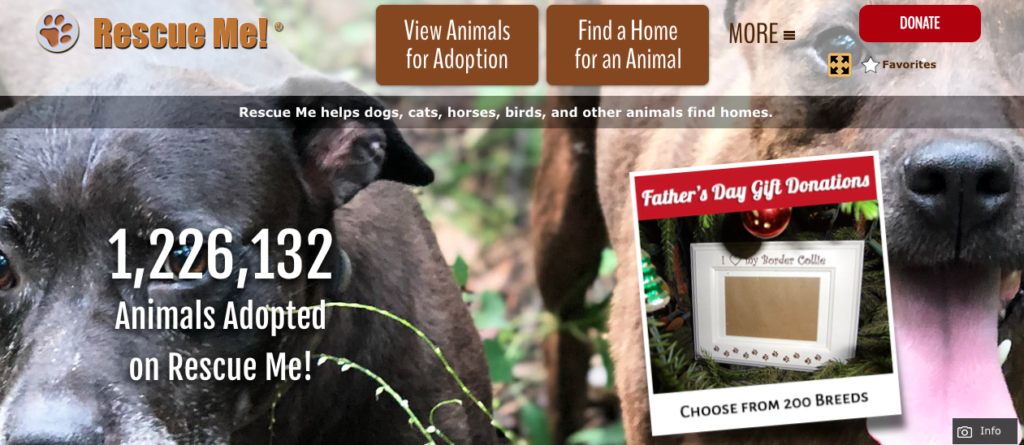 Rescue Me! is a remarkable dog adoption site that focuses on saving dogs from euthanasia. This platform allows individuals and rescue groups to post listings of dogs in need of adoption. The site is easy to navigate, and its mission is to ensure that no dog is left behind. By adopting through Rescue Me!, you're not only finding a new companion but also giving a second chance to a dog in distress.
4. 24 Pet Connect
24 Pet Connect is a leading online platform dedicated to connecting pet owners with their lost furry companions. With its vast network and advanced technology, 24 Pet Connect offers a swift and efficient way to report and search for lost pets.
5. Get Your Pet – Rehoming Made Simple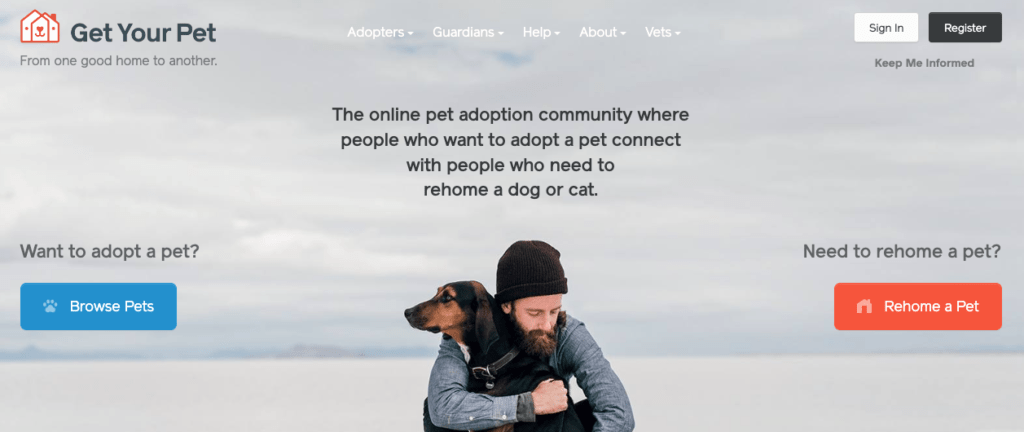 Get Your Pet takes a unique approach to dog adoption by allowing pet owners who can no longer care for their dogs to find loving homes directly. This platform enables direct communication between the current pet owners and potential adopters, streamlining the rehoming process. It offers a safe and transparent environment to ensure that pets end up in the best possible homes.
6. ASPCA – Your Source for Pet Adoption
The American Society for the Prevention of Cruelty to Animals (ASPCA) has been a long-standing advocate for animal welfare. Their website features a comprehensive database of adoptable dogs from various shelters and rescue organizations across the country. By adopting through the ASPCA, you're not only finding your new best friend but also supporting their efforts to protect and care for animals in need.
7. PetSmart Charities – A Lifelong Commitment to Pets
PetSmart Charities, the charitable arm of the popular pet store chain, also has a dedicated adoption website. Their platform partners with local animal welfare organizations to provide a simple and effective way to find your perfect pet. Additionally, PetSmart Charities hosts regular adoption events in their stores, allowing you to meet potential furry companions in person.
8. Best Friends Animal Society – Save Them All
Best Friends Animal Society is a renowned organization that is striving to bring about a time when there are no more homeless pets. Their website features a user-friendly adoption portal where you can find a wide range of dogs from shelters across the country. By adopting through Best Friends Animal Society, you become part of a larger movement to save the lives of innocent animals.
9. AKC Marketplace Rescue Network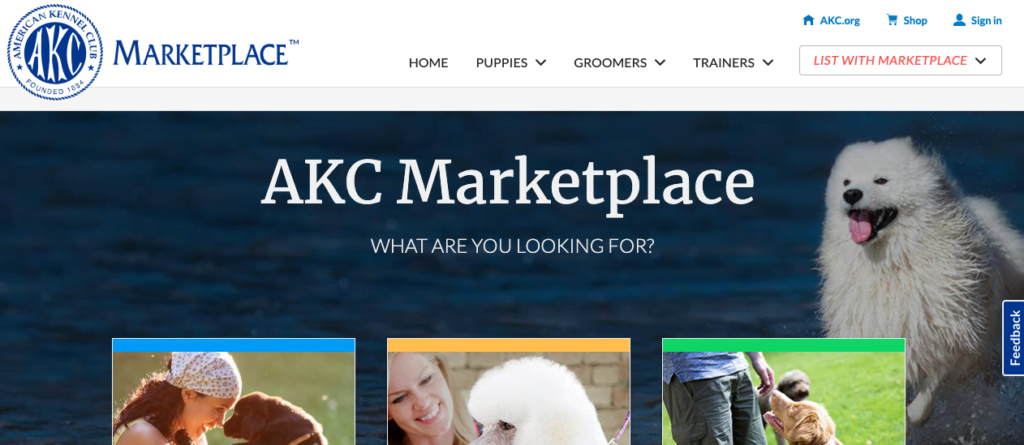 The AKC Rescue Network is a nationwide initiative by the American Kennel Club, one of the most respected authorities on purebred dogs. It collaborates with various rescue organizations and breed clubs to rehome purebred dogs in need of a loving forever home. This platform ensures that purebred dogs, who may have been abandoned or surrendered, have a second chance at a happy and fulfilling life.
10. Animal League
Animal League America, also known as North Shore Animal League America, was founded in 1944 with a mission to rescue, nurture, and adopt out homeless animals. Since its inception, this organization has been at the forefront of animal rescue, touching the lives of countless animals and humans alike.
What to look for when adopting a dog
When it comes to adopting a dog, there are essential factors to consider to ensure a successful and fulfilling match. First and foremost, assess your lifestyle and living situation to find a dog that fits seamlessly into your daily routine. Consider the dog's age, size, energy level, and temperament, aligning them with your family's needs and preferences. A meet-and-greet with the potential adoptee is crucial to gauge compatibility and establish a bond.
Additionally, inquire about the dog's health history and any special care requirements. Embracing the responsibility of dog ownership entails patience, love, and commitment, so take your time and choose a furry friend that will become an inseparable part of your life.
What to avoid when adopting a dog?
When embarking on the journey of dog adoption, it is essential to be mindful of certain pitfalls to avoid.
Firstly, resist the temptation of impulsive decisions; adopting a dog is a lifelong commitment that requires careful consideration.
Avoid overlooking your lifestyle and choosing a dog based solely on appearance or breed popularity.
Avoid adopting a dog without conducting a thorough meet-and-greet and understanding their behavior and temperament.
Additionally, steer clear of supporting irresponsible breeders or purchasing dogs from pet stores, as it may perpetuate unethical practices.
Lastly, avoid adopting a dog solely to fulfill a momentary desire without understanding the responsibilities and dedication required to care for a furry companion. By avoiding these common pitfalls, you can make an informed and responsible choice when welcoming a dog into your loving home.
What is the 3 3 3 rule for adopted dogs?
The 3-3-3 rule for adopted dogs is a guideline to help new pet owners understand and support their furry companions during the initial adjustment period.
3 Days: During the first three days, give your adopted dog time and space to acclimate to their new surroundings. Allow them to explore their new home at their own pace and avoid overwhelming them with too much attention.
3 Weeks: In the following three weeks, focus on building trust and routine with your dog. Establish a consistent schedule for feeding, walking, and playtime to create a sense of security. Begin basic training and positive reinforcement to reinforce desired behaviors.
3 Months: By the third month, your adopted dog should start feeling more settled in their new environment. Continue with training, socialization, and regular vet check-ups to ensure their physical and emotional well-being. At this stage, you should see a deeper bond forming between you and your furry companion.
Remember that each dog is unique, and some may take longer to adjust than others. Patience, love, and understanding are key to helping your adopted dog feel at home and become an integral part of your family.
Essential Equipment and Steps for a Smooth Dog Adoption Process
Welcoming a new dog into your home through adoption is an exciting and heartwarming experience. To ensure a smooth transition for both you and your furry friend, it's essential to be well-prepared.
First and foremost, gather the necessary equipment to make your dog feel comfortable. A cozy dog bed, food and water bowls, a collar with an identification tag, a secure leash, and a variety of toys are all essentials.
Create a designated space for your new companion, complete with a quiet spot for them to retreat to when they need some downtime.
Speaking of food, consult with your veterinarian to determine the best diet for your dog based on their age, size, and any specific dietary needs. High-quality dog food that meets their nutritional requirements is crucial for their overall well-being. Don't forget to stock up on treats for training and rewards.
To maintain good hygiene, invest in grooming supplies such as a brush or comb suitable for your dog's coat type, nail clippers, and dog-friendly shampoo. Regular grooming not only keeps your pup looking their best but also helps build a stronger bond between you.
Setting up a regular vet check-up is imperative to ensure your dog's health. Discuss vaccinations, preventive measures against parasites, and any other concerns with your veterinarian. Additionally, consider signing up for training classes to help your dog adapt to their new environment and learn essential commands.
Lastly, shower your new furry family member with love and patience. The initial days might be overwhelming for them as they adjust to their new surroundings, so be understanding and give them the time they need to feel comfortable and secure.
With the right preparation and a whole lot of affection, your home will become a haven for your newly adopted dog, filled with love, care, and endless wagging tails.
Conclusion
With the multitude of dog adoption sites available today, finding your new furry companion has never been easier. Whether you choose Petfinder for its extensive database or Rescue Me! for its commitment to saving dogs, each platform offers a unique and rewarding adoption experience. Remember, adopting a dog is a lifetime commitment, and choosing the right platform will ensure a smooth transition for both you and your new four-legged family member.
FAQs About Dog Adoption
Subscribe to Our Newsletter ✉️
Subscribe to our weekly newsletter below and never miss the latest article.