Best Water Bowls for dogs : Perfect Guide to Dog Hydration
Dogs, just like us humans, need to stay hydrated to maintain good health. Their bodies consist largely of water, and it plays a critical role in everything from regulating body temperature to promoting healthy digestion.
There are a number of factors that can influence a dog's hydration needs. For instance, their breed, size, age, activity level, and even the weather can affect how much water they need. A working dog who spends all day outside in the sun will need to drink more than a small indoor dog who spends most of the day lounging around. Similarly, puppies and older dogs may have different hydration needs compared to adult dogs.
Choosing the right water bowl plays a surprisingly important role in meeting these needs. The right water bowl can encourage your dog to drink more and stay well-hydrated. From the bowl's size, depth, and material to the ease of cleaning and stability, every feature matters. In the following sections, we'll dive into the world of dog water bowls, discussing the types available and which ones might be best for your four-legged friend. So, let's start our journey to ensure your dog's hydration needs are optimally met.
Top 3 Dog Water Bowls in 2023
Understanding Your Dog's Needs
As a loving dog owner, it's essential to understand the unique needs of your pet before you choose the perfect water bowl. Let's start with the size and breed of your dog. A tiny teacup poodle will have vastly different requirements compared to a big, burly Saint Bernard. The water bowl needs to be appropriately sized so your pup can drink comfortably. If it's too deep for a small dog, they might avoid drinking. Conversely, a large breed may easily knock over a lightweight bowl that's too small.
Now, let's talk about behavior. You know your furry friend's personality best! Some dogs are neat and meticulous drinkers, while others splash around, creating a mess as if they were having a pool party. Fast drinkers might benefit from a bowl designed to slow them down, reducing the risk of choking or gastric issues.
Health conditions can also influence the type of bowl you choose. For instance, if your dog suffers from joint issues, a raised water bowl could make drinking easier and less painful. On the other hand, a dog with a flat face (like a pug) might struggle with a bowl that's too deep.
Lastly, think about your dog's daily activities and environment. Does your dog spend most of the day indoors or outdoors? An outdoor dog might benefit from a heavier bowl that won't be tipped over easily or a water dispenser that keeps the water fresh throughout the day. Conversely, an indoor dog might do well with a simple, easy-to-clean bowl.
Understanding your dog's unique needs will guide you in choosing a water bowl that's not only functional, but also comfortable for your dog to use. This way, you can ensure they're staying well-hydrated, which is a key part of keeping them happy and healthy!
Types of Dog Water Bowls
When it comes to choosing the right water bowl, you'll find a variety of options on the market. Let's take a look at the most common types, their pros and cons, and which dogs they might suit best.
Firstly, we have traditional plastic bowls. They're lightweight, affordable, and come in a variety of colors and sizes. However, they can easily get scratched, becoming a breeding ground for bacteria. Some dogs may also have an allergic reaction to plastic. These bowls are generally good for casual use or for puppies that might be too rough with a heavier bowl.
Best plastic bowls water for dog
Next up are ceramic bowls. They're heavier than plastic and often come in beautiful designs. They're less likely to tip over, but they're also more fragile and can break if dropped. Ceramic bowls are perfect for smaller or less active dogs who won't knock them over.
Best ceramic bowls water for dog
Stainless steel bowls are another popular choice. They're durable, rust-resistant, and easy to clean, making them a hygienic option. On the downside, they can be a bit noisier if your dog is a vigorous drinker. Stainless steel bowls are a great fit for most dogs, especially larger breeds that may be more prone to tipping over lighter bowls.
Best Stainless steel bowls water for dog
Automatic water dispensers are fantastic for owners who might be out for long periods during the day. They keep your dog's water supply fresh and constant. However, they can be more difficult to clean, and some dogs might be scared of the noise they produce. They're ideal for busy pet owners and dogs that drink a lot of water throughout the day.
Best Automatic water dispensers for dog
Finally, travel water bowls are designed for on-the-go hydration. They're often collapsible or foldable, lightweight, and made from durable materials. The downside is that they may not hold as much water as regular bowls. These are best suited for dogs who travel frequently with their owners, ensuring they stay hydrated wherever they roam.
Best travel water bowls for dog
Remember, every dog is different. Their size, breed, health, habits, and lifestyle should all be considered when choosing the right bowl. Your dog's water bowl isn't just a dish—it's a tool to ensure their health and happiness.
Common Mistakes to Avoid When Choosing a Dog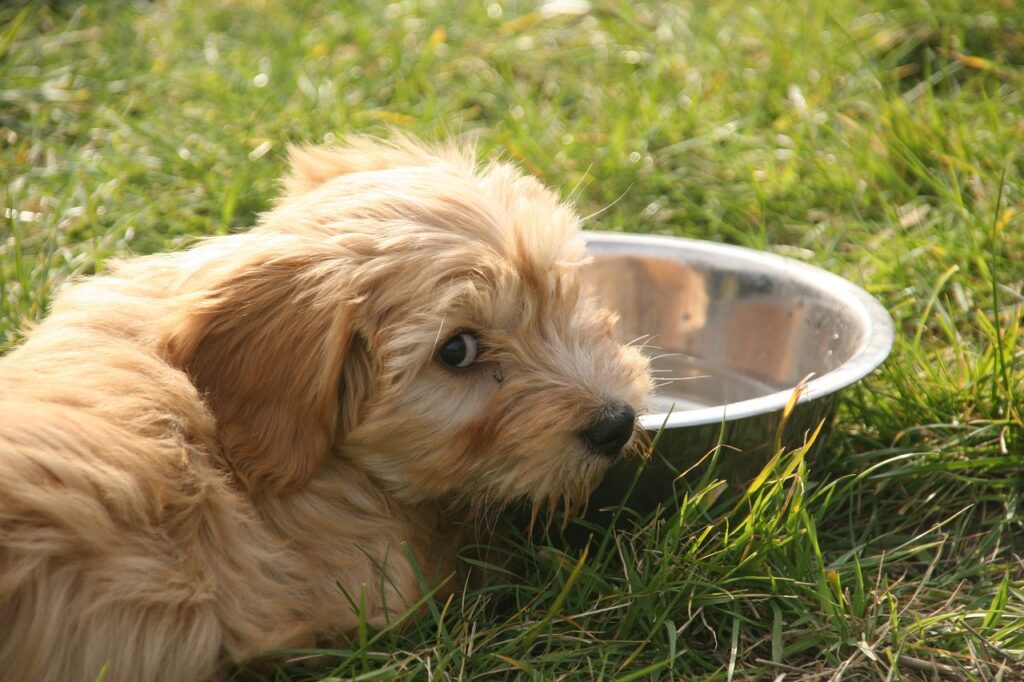 There are common mistakes that dog owners often make during this process which can hinder their pet's hydration and overall health.
Firstly, incorrect sizing is a typical issue. A bowl that's too small for your large dog can lead to a frequent need for refills, while a bowl that's too big can be intimidating or uncomfortable for your small breed or puppy to drink from.
Secondly, many owners overlook the importance of the bowl's material. While plastic bowls might be appealing due to their affordability and lightweight nature, they can easily become scratched and harbor bacteria. Also, some dogs may have an allergic reaction to certain plastics. Stainless steel or ceramic bowls are often more durable and safer.
Neglecting ease of cleaning is another common mistake. No matter what material or type of bowl you choose, it's essential that it be easy to clean to prevent the buildup of harmful bacteria. Many owners find bowls that are dishwasher-safe to be a convenient choice.
Lastly, it's important not to ignore your dog's preferences and habits. Every dog has their own unique drinking habits and preferences. Some may prefer a raised bowl, others might be scared of automatic water dispensers. Pay attention to your dog's behavior and make sure they're comfortable with the bowl you've chosen for them.
Conclusion
In conclusion, the importance of choosing the right water bowl for your dog cannot be overstated. Proper hydration is essential for your pet's health and well-being, and the right water bowl plays a key role in ensuring that.
We've discussed the various types of bowls, from traditional plastic and ceramic bowls to stainless steel, automatic water dispensers, and travel bowls. Each type has its advantages and potential drawbacks, and what works best will largely depend on your dog's size, age, health, and personal habits.
A bowl that works for one dog may not work for another. Paying close attention to your dog's individual needs and behaviors will help guide you in choosing a bowl that not only serves its purpose but is also comfortable and appealing to your pet.
By taking the time to select the right bowl, you're making an important investment in your dog's health. So here's to many more years of happy, hydrated tail-wagging!
Subscribe to Our Newsletter ✉️
Subscribe to our weekly newsletter below and never miss the latest article.