10 best dog movies on Netflix | You need to watch
If you're a fan of dogs, then you'll love this list of 10 best dog movies on Netflix. From heartwarming tales of loyalty to comedies about mischievous pups, these films are sure to put a smile on your face. So grab some popcorn and curl up with your furry friend for a paw-fect movie night in.
2020 – 1 h 33 min
In Roger's futuristic city, street-smart a stray dog named Roger teams up with Belle, a pet cat, when corrupt mayor as well as his whole robot army seize control and coerce its residents to leave. Without the humans, Roger and Belle must lead a terrified pack of abandoned animals on a daring and dangerous rescue operation to save their city.
Trailer
2022 – 1h30
Trooper Dan aspires to join K-9 Emergency and Search & Rescue, but no one wants to assign him the task. Shelter dog Ruby yearns for an abode, but is running out of hope. When Dan and Ruby are found living together, it is their unbreakable bond that helps them survive their hardest ordeal yet.
Trailer
2018 – 1h27
Benji is a homeless mutt adopted by a loving family; when the kids are kidnapped, it is the little mutt to the rescue in the manner of bigger canine heroes such as Rin Tin Tin and Lassie.
Trailer

1992 – 1h26
The Newton family does everything to be happy. Yet she sent that something is missing. This lack will be filled by a puppy, just escaped from the clutches of dog kidnappers. The Newtons baptize the puppy Beethoven and it grows, grows, to the point of reaching 85 kilos. Meanwhile, Dr. Varnick, a terrible veterinarian, has met in secret to develop products that will discover experiments on dogs.
Trailer
2018 – 1h27
Weedon Scott's White Fang is the story of a wolf puppy that is rescued from the wild and gradually becomes domesticated by its kind and patient owner. White Fang eventually protects Weedon Scott's father from an escaped convict.
Trailer
2019 – 1h26
Max faces major changes in his life. Its owner is now married and has one child, Liam. Max worries so much about protecting the boy that he develops a nervous tic. On a family trip to the countryside, Max and his friend Duke encounter mean cows, hostile foxes and a terrifying turkey, which only increases his anxiety.
Luckily, Max is guided by Rooster, a seasoned farm dog who urges him to let go of his neuroses, find his inner alpha, and give Liam a little more freedom. Meanwhile, while her owner is away, brave Gidget attempts to rescue Max's favorite toy from an apartment full of cats with the help of her cat friend, Chloe, who has just discovered the joys of weed. to chat.
Trailer

2018 – 1h32
Frank and his dog Max form a formidable duo within the police force. As they travel to Las Vegas for a well-deserved vacation, they learn of the disappearance of a baby panda. The duo quickly discovers that the current dog show is linked to this disappearance, since the contest actually hides animal trafficking. Max offers to infiltrate the canine competition to help his companions.
Trailer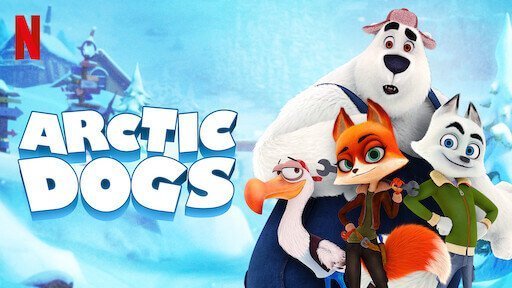 2019 – 1h33
Swifty the fox discovers Otto Von Walrus' devious plan to drill below the Arctic's surface to release enough gas to melt all the ice. With the help of her friends, Swifty and her gang band together to foil Otto's plot and save the world.
Trailer
2009 – 1h49
Andi and Bruce are orphans and live with Carl and Lois Scudder. They secretly take care of their adorable little dog named Friday. While prowling in his city, he will be captured by an employee of the pound, and refuses to return the two orphans their dog without the agreement of a parent.
In order to avoid being separated from their dog, the latter take him to an old abandoned hotel, where they discover two new dogs. Following this, with the help of their friends Dave, Mark and Heather, they undertake to rescue all the dogs from the pound as well as those on the streets and/or abandoned in order to offer them a dream life outside the pound.
Trailer
2017 – 1h55
This film tells the true life story of Megan Leavey, a young Marine corporal whose discipline and extraordinary relationship with a military combat dog saved many lives while deployed to Iraq. Tasked with cleaning up the K-9 unit after a disciplinary hearing, Leavey bonds with Rex, a particularly aggressive dog she trains. Together, they accomplished more than 100 missions.
Trailer
How to watch netflix from other countries
If you want to watch Netflix from another country, there are a few things you need to do. First, you need to sign up for a VPN service that will allow you to change your IP address. Once you have a VPN service, connect to a server in the country where you want to watch Netflix. Then, log in to your Netflix account and start watching!
VPN services to watch dog movies on netflix
Here are three best VPN services currently available :
1. NordVPN is another popular option that offers robust security features and a user-friendly interface. It has servers in over 60 countries and provides good speeds for streaming and gaming.
2. Surfshark is a great option for those who want a fast VPN service with lots of features. It has over 1,000 servers in 100countries and provides unlimited bandwidth for streaming and gaming.
3. ExpressVPN is one of the most popular VPN services available. It offers a fast, reliable service with strong encryption and a large network of servers in 94 countries.
Conclusion
In conclusion, dog movies are the best. They make us laugh, cry, and feel all the feels. They're the perfect way to spend an afternoon, whether you're alone or with your furry friends.
Subscribe to Our Newsletter ✉️
Subscribe to our weekly newsletter below and never miss the latest article.