Unleash the Power of Prevention: An Amazing Guide to Preventing Common Dog Health Issues
The well-being and health of our canine companions are of utmost importance. As responsible dog owners, we understand the significance of preventive care in ensuring a long and fulfilling life for our beloved pets. By taking proactive measures and addressing potential health issues before they escalate, we can provide our dogs with the best possible care.
Preventive care plays a crucial role in maintaining the overall health and happiness of our dogs. Just like humans, dogs are susceptible to a range of health issues throughout their lives. However, through regular preventive care, we can minimize or even prevent many of these conditions.
Familiarizing ourselves with the common health issues that dogs face is an important step in preventive care. While each dog is unique and may have specific vulnerabilities based on factors such as breed and age, certain health concerns are prevalent among canines.
In this guide, we will explore these common dog health issues in detail, providing valuable insights and practical tips on prevention and management. Armed with knowledge, we can actively promote the well-being of our dogs and take proactive steps to optimize their health.
What are the most common dog health issues
One of the most common health problems in dogs is obesity, which can lead to other complications such as diabetes, heart disease, and arthritis. To prevent obesity, make sure to give your dog regular exercise by going for walks or playing fetch with them. Additionally, monitor their food intake by feeding them an appropriate portion size for their weight and age.
Dental problems are another issue that many dogs face. Poor dental hygiene can lead to bad breath, gum disease, tooth decay, and even infections in other parts of the body.
Nutrition and Diet
Proper nutrition is fundamental to the overall health and well-being of our dogs. A balanced and nutritious diet is essential to support their growth, maintain a healthy weight, and prevent various health issues. In this section, we will explore important considerations for choosing the right dog food, determining appropriate portion sizes, establishing feeding schedules, and avoiding harmful foods and ingredients.
1. Choosing a Balanced and Nutritious Dog Food:
– Understanding the nutritional needs of dogs based on their life stage (puppy, adult, senior) and size.
– Reading and interpreting dog food labels to identify high-quality ingredients.
– Recognizing the importance of essential nutrients such as proteins, carbohydrates, fats, vitamins, and minerals.
– Considering special dietary requirements for dogs with specific health conditions or allergies.
2. Appropriate Portion Sizes and Feeding Schedules:
– Determining the correct portion sizes based on factors like age, weight, activity level, and breed.
– Consulting with a veterinarian to establish a feeding schedule that aligns with your dog's needs.
– Understanding the potential risks of overfeeding or underfeeding and their impact on a dog's health.
– Monitoring your dog's weight and adjusting portion sizes accordingly to maintain a healthy body condition.
3. Avoiding Harmful Foods and Ingredients:
– Identifying common human foods that are toxic or potentially harmful to dogs, such as chocolate, grapes, onions, and xylitol.
– Being cautious of certain ingredients, like artificial preservatives, colors, and flavors, which may have adverse effects on dogs.
– Consulting a veterinarian or conducting research to understand specific dietary restrictions or sensitivities related to your dog's breed or health condition.
– Exploring natural and homemade dog food options, with proper guidance, if desired.
By prioritizing a balanced and nutritious diet, determining appropriate portion sizes, adhering to feeding schedules, and avoiding harmful foods and ingredients, we can ensure that our dogs receive the nutrition they need to thrive. Remember, consulting with a veterinarian for personalized advice is always recommended when it comes to your dog's dietary needs.

Vaccinations and Immunizations: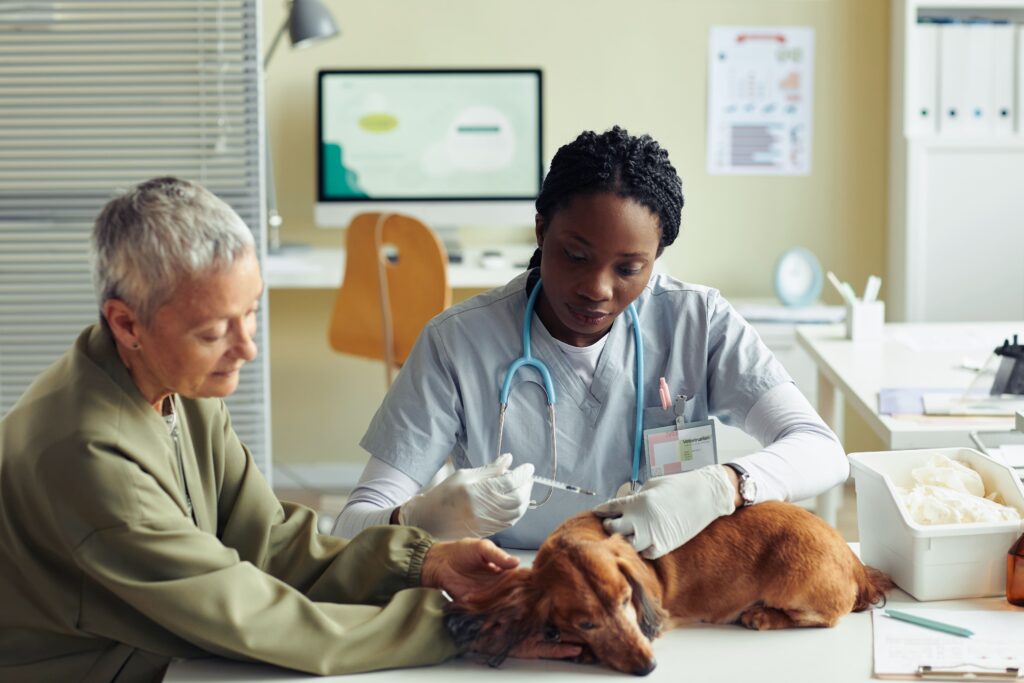 Vaccinations play a crucial role in safeguarding the health and well-being of our dogs. They protect against potentially life-threatening diseases and help prevent the spread of contagious illnesses. In this section, we will explore the importance of vaccinations, discuss the recommended vaccination schedule for dogs, differentiate between core and non-core vaccinations, and address the risks and benefits associated with vaccines. You can read my last post about what vaccine dog need.
Recommended Vaccination Schedule for Dogs:
– Understanding the primary vaccinations recommended for all dogs, such as distemper, parvovirus, adenovirus, and rabies.
– Learning about additional vaccinations that may be necessary based on geographic location and specific risks, such as leptospirosis or Lyme disease.
– Consulting with a veterinarian to create a tailored vaccination plan based on your dog's age, health status, lifestyle, and local regulations.
Importance of Core and Non-core Vaccinations:
– Differentiating between core and non-core vaccinations.
– Core vaccinations protect against diseases that are prevalent, highly contagious, and potentially severe or fatal.
– Non-core vaccinations target diseases that are less common, region-specific, or dependent on individual risk factors.
– Discussing the necessity and benefits of both core and non-core vaccinations with a veterinarian.
Discussing Vaccine Risks and Benefits:
– Addressing concerns regarding potential risks associated with vaccinations, such as adverse reactions or side effects.
– Understanding the minimal risks of vaccines compared to the significant protection they provide against diseases.
– Exploring alternative vaccination schedules or approaches, such as titer testing, in consultation with a veterinarian.
– Weighing the benefits of vaccinations in terms of disease prevention, public health, and the overall well-being of your dog.
It is important to consult with a veterinarian who can provide personalized guidance based on your dog's specific needs and circumstances.
Parasite prevention
Parasite prevention is an essential part of maintaining the health and wellbeing of your pets. Parasites are organisms that live on or within another organism, known as the host, and can cause a range of health problems. These pests come in many forms, including fleas, ticks, worms, mites, and lice. They can cause skin irritation, anemia, weight loss, and even transmit diseases.
To prevent parasites from affecting your pet's health, it's essential to maintain good hygiene practices such as regular grooming and cleaning. Keeping your pet clean helps prevent infestations by reducing the number of parasites present on their skin or fur. Another effective way to prevent parasites is through medication. There are many different options available for parasite prevention ranging from topical treatments to oral medications tailored towards specific types of pests that may be prevalent in your area.
Regular Veterinary Check-ups
During these appointments, veterinarians can perform a variety of tests and evaluations to ensure that your pet is in good health. They can also provide necessary vaccinations and preventative treatments, such as flea and tick prevention or heartworm medication. Regular check-ups also allow for early detection of any potential health problems, which can lead to faster treatment and better outcomes.
Regular veterinary check-ups are an essential aspect of responsible pet ownership. These check-ups help keep your pets healthy and prevent any potential health problems from developing. Even if your pet appears to be healthy, it is important to schedule regular appointments with a veterinarian.
In addition to physical exams, regular veterinary check-ups also provide an opportunity for you to discuss any concerns or questions you may have about your pet's health or behavior. Your veterinarian can offer advice on diet, exercise, dental care, and other aspects of caring for your pet.

Dental Care
One of the most common health issues in dogs is poor dental health. Just like humans, dogs need proper dental care to prevent tooth decay, gum disease and other oral problems. Preventing these issues can not only save you money in vet bills but also provide your dog with a better quality of life.
The first step to preventing dental problems in dogs is regular teeth cleaning. You should brush your dog's teeth at least twice a week using a toothbrush and toothpaste specifically designed for dogs. Avoid using human toothpaste as it contains ingredients that may be harmful to your dog's digestive system. In addition to brushing, give your dog chew toys and bones to help clean their teeth naturally while keeping them entertained.
Exercise and Weight Management
Regular exercise is essential for keeping your dog active, healthy, and happy. It helps to maintain a healthy weight, strengthen bones and joints, improve circulation, boost immunity, release pent-up energy, reduce anxiety and stress levels, and enhance overall well-being. To ensure that your dog gets sufficient exercise every day, you can take him for walks or runs outdoors or engage him in interactive games such as fetch or tug-of-war indoors.
Weight management is also crucial for preventing various health problems in dogs. Excess weight can lead to obesity which can increase the risk of developing diabetes mellitus, hypertension, heart disease, respiratory problems and joint issues.
Signs and Symptoms to Watch For
One key aspect of preventing dog health issues is being vigilant for signs and symptoms that may indicate a problem. For example, frequent urination or excessive thirst could be an early sign of diabetes in dogs. Similarly, changes in appetite or weight loss may signal an underlying health issue such as liver disease or kidney failure. By staying alert for these warning signs and seeking prompt veterinary care when needed, you can help ensure your furry friend stays healthy.
Another important factor in preventing canine health problems is providing proper nutrition and exercise.
Conclusion
In conclusion, preventive care plays a vital role in promoting the health and well-being of our dogs. By implementing the discussed preventive measures, we can take proactive steps to ensure our furry companions lead happy and healthy lives.
Throughout this guide, we explored various aspects of preventive care in the dog niche. We emphasized the importance of preventive measures such as proper nutrition and diet, regular vaccinations and immunizations, parasite prevention, regular veterinary check-ups, and more.
To recap, we highlighted the significance of choosing a balanced and nutritious diet for dogs, understanding the recommended vaccination schedule and differentiating between core and non-core vaccinations. We also discussed effective methods for flea and tick prevention, the importance of heartworm prevention and testing, and strategies for preventing intestinal parasites. Furthermore, we emphasized the benefits of regular veterinary check-ups in monitoring your dog's health and addressing any potential issues.
By practicing these preventive measures, we can minimize the risk of common health issues, detect problems early on, and provide our dogs with the care they deserve. It is essential to maintain regular care and awareness to ensure that our dogs thrive physically, mentally, and emotionally.
We encourage all dog owners to prioritize regular veterinary check-ups, stay informed about their dogs' specific needs, and collaborate closely with their veterinarians to develop tailored preventive care plans. Remember, preventive care is an ongoing commitment, and your dedication to your dog's health will contribute to a happier and healthier life for your four-legged friend.
FAQ
Subscribe to Our Newsletter ✉️
Subscribe to our weekly newsletter below and never miss the latest article.